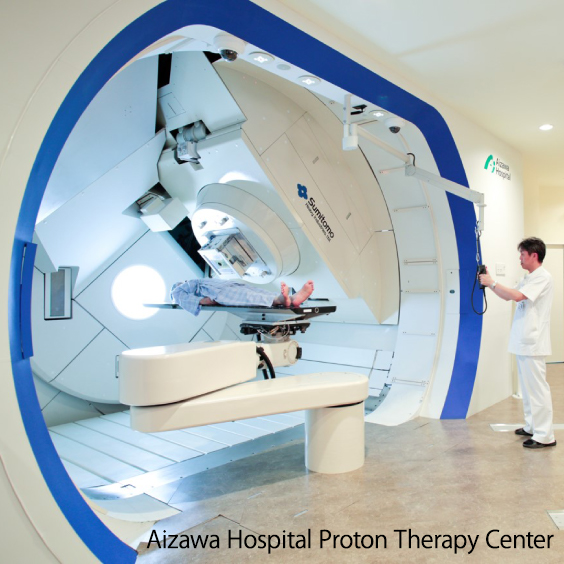 Grup SHI berusaha untuk mempromosikan pengobatan kanker tingkat lanjut.
Terapi Radiasi (radiation therapy) merupakan satu dari tiga metode utama pengobatan kanker yang menjadi populer karena dianggap paling memberikan dampak paling ringan ke tubuh manusia. Terapi sinar proton (proton beam therapy) merupakan salah satu tipe terapi radiasi, dengan memanfaatkan keunggulan karakter fisikal proton, dimana dapat memberi dosis radiasi yang cukup pada jaringan kanker yang ditargetkan sembari mengurangi dosis radiasi yang diaplikasikan pada jaringan normal.
Oleh karena itu terapi sinar proton banyak mendapat perhatian dari dan luar Jepang, karena dapat diaplikasikan ke beragam kasus, seperti pengobatan penyakit yang sulit disembuhkan dengan metode pengobatan lain, metode ini lebih efektif dibandingkan metode pengobatan lain, dan berkontribusi dalam meningkatkan kualitas hidup (Quality of Life - QOL).
Klik di sini untuk informasi lebih lanjut
1

Teknologi akselerator yang terpercaya untuk peralatan medis

Grup SHI telah mengembangkan cyclotrons untuk terapi proton beam dengan mengaplikasikan teknologi akselerator yang telah dikembangkan sejak awal tahun 1970. Kemudian pada tahun 1997, Grup SHI mensuplai mesin proton beam untuk sistem pengobatan terapi kanker yang pertama kali ke National Cancer Center Hospital East. Pada tahun 1998, Grup SHI mulai mengoperasikannya sebagai fasilitas terapi pengobatan kanker dengan sinar proton yang dipasang di rumah sakit yang pertama kalinya di Jepang (kedua di dunia), dan sistem tersebut berlanjut dengan stabil hingga hari ini.

2

Konfigurasi sistem terapi sinar proton

Sistem terapi sinar proton terdiri dari akselerator (cyclotron), alat pilih energi, alat transpor sinar, dan perlengkapan rotating gantry irradiation (gantry, irradiation, nozzle, dan perlengkapan untuk penempatan pasien). (Sistem ini telah diakui sebagai perlengkapan medis oleh Kementrian Kesehatan, Tenaga kerja dan Kesejahteraan Jepang).

3

Desain yang kompak dan layout yang fleksibel

Penempatan cyclotron dan compact gantry di bagian atas dan dasar, membuat ruang yang dibutuhkan untuk dibangun berkurang secara signifikan, dan memungkinkan untuk pengembangan rencana instalasi pada ruang yang terbatas (untuk mesin dengan tipe layout top and bottom)

4

Cyclotron untuk mensuplai sinar proton dengan intensitas tinggi secara berkesinambungan

Fitur ini membantu mengurangi beban pasien karena waktu radiasi terhadap organ pernafasan (paru-paru, liver, dan lainnya ) menjadi lebih pendek, dan memiliki metode dengan tingkat scanning berpresisi tinggi.

Top and bottom installation layout

Cyclotron (Aizawa Hospital Proton Therapy Center)

5

Seleksi metode ekspansi sinar (Wobbler method)/ metode scanning untuk mengatasi penyakit

Nozzle penyinaran multiguna memungkinkan kita untuk mengganti metode ekspansi penyinaran (Wobbler Method)/ metode scanning untuk waktu singkat tanpa perlu penggantian hardware. Hal ini memungkinkan untuk menyeleksi metode penyinaran yang sesuai untuk mengatasi penyakit.

Metode Ekspansi Sinar

Metode Scanning

6

Jaringan network dan sistem support yang berpusat di Asia

Grup SHI memiliki fasilitas jaringan untuk pengiriman di Jepang (4 lokasi), Taiwan (2 lokasi), Korea Selatan (1 Lokasi), kami juga menyediakan pelayanan purna jual yaitu pengoperasian cyclotron, manajemen untuk perawatan semua sistem, pembagian informasi antar fasilitas.
Untuk informasi lebih lanjut mengenai produk di atas silakan hubungi kami