Flue Gas Denitrification Systems, Selective Catalytic Reduction dan Selective non-Catalytic Reduction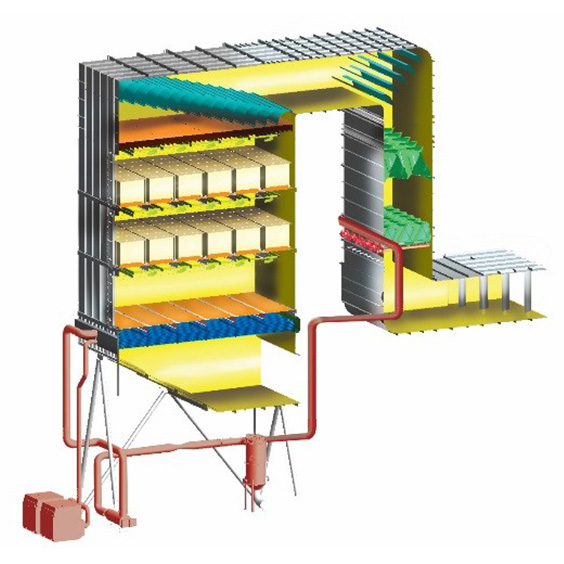 Memenuhi standar peraturan lingkungan yang ketat, baik untuk saat ini atau masa depan.
Nitrogen oksida (NOx) seperti NO dan NO2, pada umumnya terbentuk karena proses pembakaran. Jika hal tersebut tidak ditangani, maka polutan akan menyebabkan risiko yang berbahaya pada lingkungan seperti dapat menimbulkan kabut asap, hujan asam, dan membawa dampak buruk pada lapisan ozon.
Oleh karena itu, emisi NOx perlu diuraikan dan didetoksifikasi menjadi N2 dan H2O yang merupakan komponen atmosfer, dengan metode berikut:
Selective Non-Catalytic Reduction (SNCR) yang memanfaatkan reaksi suhu tinggi gas amonia atau urea dengan nitrogen oksida, tanpa menggunakan katalis.
Selective Catalytic Reduction (SCR) yang memanfaatkan reaksi nitrogen oksida dengan amonia dengan adanya katalis pada suhu yang lebih rendah.
Both SNCR and SCR are based on the injection of ammonia or urea into the flue gas stream.
1

Desain sistem yang disesuaikan dengan kondisi/situasi proyek

Metode denitrifikasi yang optimal dipilih berdasarkan beberapa parameter seperti tingkat debu, kandungan belerang, suhu gas buang, dan ruang yang tersedia untuk instalasi peralatan. Berdasarkan pengalaman kami dalam proses pembakaran dan desain boiler selama bertahun-tahun, kami dapat menyediakan sistem denitrifikasi yang mampu mengurangi biaya fasilitas dan pengoperasian, baik itu untuk untuk bangunan baru atau retrofit.

2

Menyediakan performa tinggi dalam kondisi apapun

Kami menyediakan sistem DeNOx di lingkungan "High Dust" (sebelum pengolahan gas buang) dan "Tail End" (setelah pengolahan gas buang). Emisi NOx dapat dikurangi secara signifikan dengan memperluas atau mengoptimalkan sistem SCR dan SCNR sejalan dengan perubahan pengoperasian pabrik.

3

Kami memilih katalis terbaik sesuai dengan kebutuhan pelanggan

Memilih jenis katalis yang tepat sesuai dengan kondisi/situasi proyek dapat menghasilkan kinerja yang tinggi dengan biaya pengoperasian yang lebih rendah.Jenis katalis sendiri dipilih dengan mempertimbangkan komposisi bahan bakar dan gas buang, seperti kadar abu. Selain itu, karakteristik oksidasi katalis untuk SCR juga mempengaruhi tingkat oksidasi merkuri dari Hg 0 hingga Hg 2+, sehingga secara signifikan berkontribusi terhadap efisiensi penyisihan merkuri di peralatan gas buang hilir.

4

Mengurangi biaya dengan menggabungkan SNCR dan SCR

Menggabungkan dua metode yaitu SNCR dan SCR ke dalam satu sistem dapat mengurangi biaya sekaligus memenuhi ketentuan ambang batas emisi. Sistem SNCR akan melakukan proses pengurangan NOx tahap awal. Selanjutnya, emisi akan dikurangi dengan memanfaatkan sisa amonia yang tidak bereaksi di lapisan katalitik SCR setelah proses non-katalitik, sehingga dapat mengurangi pengeluaran sekaligus mengurangi emisi NOx ke tingkat yang diperlukan. Selain itu, untuk memenuhi ketentuan ambang batas emisi yang lebih ketat, maka pengurangan lebih lanjut dapat dilakukan dengan mengoptimalkan injeksi amonia dan modul katalitik.
Untuk informasi lebih lanjut mengenai produk di atas silakan hubungi kami