Food and Beverage Manufacturing Facilities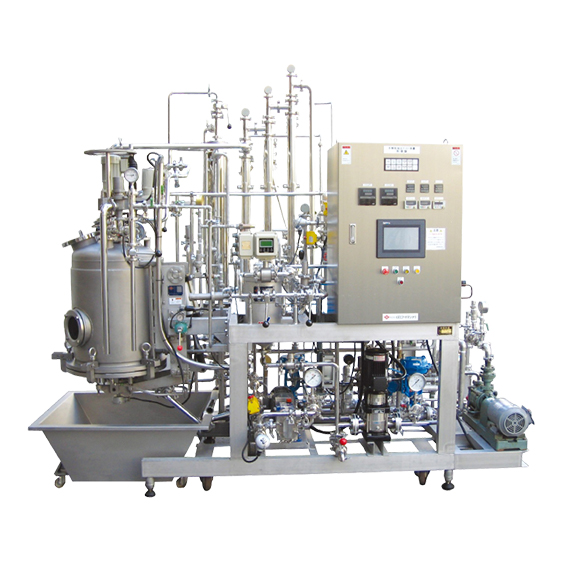 Grup SHI menyediakan teknologi baru dalam pemrosesan makanan untuk menjamin keamanan pangan dan ketenangan pikiran.
Izumi Food Machinery Co., Ltd., telah berkontribusi pada industri makanan, juga di bidang farmasi, kimia, dan industri lainnya dengan menciptakan produk-produk berkualitas di banyak bidang, berdasarkan teknologi di bidang sanitari, teknologi ekstraksi, teknologi emulsifikasi, teknologi disinfektan dan sterilisasi, dan juga system engineering.
Klik di sini untuk mendapatkan info detail tentang Food and Beverage Manufacturing Facilities
Peralatan untuk Manufaktur Makanan
Berbagai Jenis Minuman

Minuman jus buah, minuman berbahan teh, minuman berbahan kopi, minuman berkarbonasi, minuman isotonik, air mineral.

Produk olahan susu dan frozen desserts

Susu di pasaran, susu fermentasi, es krim, yoghurt.

Seasoning & Brewing

Kecap asin, kaldu sup, saus, salad dressing, sake, minuman beralkohol

Medical Drug, healthy drink

Medical drinks, Aojiru Beverages, Herbal Medicine, Susu Kedelai
Kami menawarkan produk yang terbaru dan paling berguna, termasuk di antaranya adalah tanki super fungsi (highly functional tanks), mesin emulsi dan pengaduk (emulsifiers and homogenizers), mesin sanitasi, mesin pembuat es krim, dan perlengkapan berkinerja tinggi lainnya.
Mesin Ekstraksi Multiguna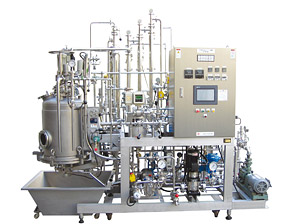 Mesin ekstraktor multifungsi kami dapat melakukan ekstraksi dalam berbagai metode, seperti immersion, semi-immersion, drip, dan pressurized. Dalam peralatan ini, dikemas dengan perlengkapan untuk berbagai macam tujuan dari penyedia bahan mentah hingga mengeluarkan ampas sisa.
Kopi, Teh Hitam, Teh Oolong, Teh Gandum, Blended Tea, Teh Hijau, Kaldu sup, Herbal Medicine, Ekstrak bumbu lainnya yang bervariatif, dan lain-lain.
Powder suctioning and liquefying equipment: DAMAnizer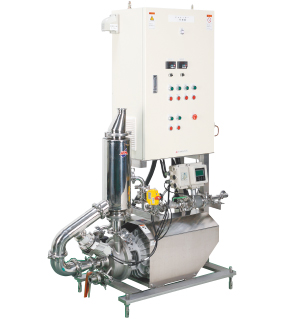 Kendala yang ditemui dalam proses disolusi, dispersi dan masalah bahan pengental maupun nanopartikel telah dibuat menjadi mudah. Proses disolusi yang belum pernah ada sebelumnya dapat tercapai dalam penghisapan, deaerasi (deaerating), dan pencampuran bubuk dibawah tekanan negatif.
Prosesor untuk memasak: Dynamixer Processor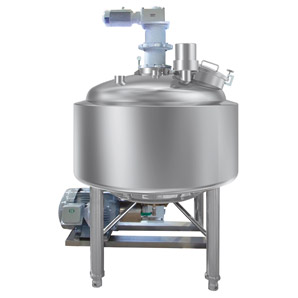 Prosesor ini terdiri dari baling-baling penghancur (crushing rotors) yang terdapat pada dasar tanki berbentuk silinder, dan pisau pengeruk yang mengeruk pada sepanjang dinding. Ketika rotor penghancur bekerja dengan kecepatan tinggi, sayuran, buah, blok bumbu kare, atau coklat kesemuanya dapat hancur. Cairan yang dihasilkan dari proses pemotongan tersebut tercampur secara rata dan teraduk (agitated), kemudian prosesor akan memasak atau mendinginkan konten, dan semua proses ini dapat dilakukan hanya dalam satu unit.
Walaupun berbentuk tanki silinder, pisau pengeruk (scrapping blades) berotasi berlawanan arah dengan rotor penghancur yang menciptakan efek baffle (the baffle efect), yang memastikan bahwa cairan tidak berputar searah ketika proses pencampuran, agitasi, pemanasan (cooking) atau pendinginan berlangsung, seperti proses kerja blender jus yang dipakai pada rumah tangga. Pisau pengeruk juga berfungsi untuk mencegah pembakaran yang dapat terjadi selama proses pemanasan.
Peralatan disinfektan dan sterilisasi: NT Model Plate-type Heat Exchanger Konsep baru NT Plate-type Heat Exchanger dengan perubahan aliran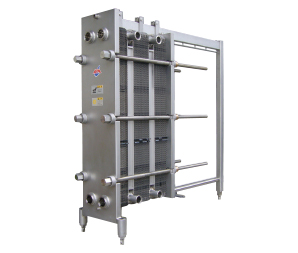 Produk ini mengadopsi gelombang yang berbeda (Opti Wave = bentuk gelombang yang optimum) pada sisi kiri dan kanan permukaan plat pemanas, untuk merubah tekanan yang hilang, sehingga tingkat aliran pada seluruh permukaan pemanas menjadi seragam, memperpanjang waktu operasi dan memperpendek proses pembersihan..
*Untuk plat dari heat exchange dengan model NT, adalau produk dari perusahaan GEA ECOFLEX.
Tube type heat exchanger NTA model series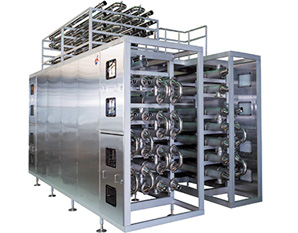 Produk ini merupakan transmitor penghantar panas tinggi yang efisien dan tahan dengan tekanan tinggi, yang terkemas dalam bentuk satu unit tunggal, yang dapat menangani berbagai jenis varian produk. Alat ini mampu menangani produk yang mempunyai kecenderungan mudah terbakar dalam waktu operasional yang panjang.
Mesin Pembentuk/pencetak (Forming equipment)
Mesin pembentuk dumpling (pangsit) - Dumpling forming equipment
Untuk informasi lebih lanjut mengenai produk di atas silakan hubungi kami
Telepon
Izumi Food Machinery Co., Ltd.
Web
Izumi Food Machinery Co., Ltd.