Sistem Penanganan Material
Pemuat Kapal Kontinu (Bucket-Elevator Type)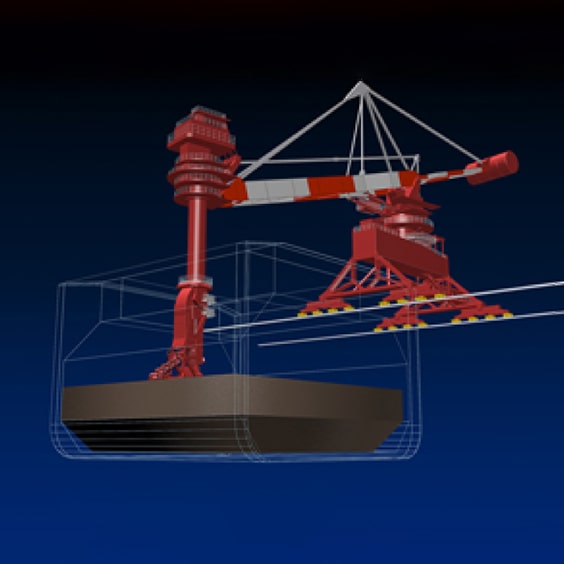 Mudah dioperasikan, jam kerja singkat, serta ramah lingkungan untuk "Continuous Unloader dari SHI Group"
Sumitomo Heavy Industries Material Handling Systems Co., Ltd adalah bagian dari Grup SHI yang membuat peralatan transportasi untuk pengelolaan kargo.
Grup SHI melayani konsumen dalam ruang lingkup industri yang luas, termasuk pembuatan baja, perusahaan listrik, pembangunan kapal maupun industri servis pelabuhan. Memberi pelayanan sesuai kebutuhan pelanggan dari perencanaan, pengembangan produk melalui general engineering, hingga pelayanan purna jual yang ada sepanjang umur produk.
Salah satu produk utamanya adalah pemuat kapal kontinu (bucket-elevator type), yang dikembangkan dengan tujuan untuk merampingkan dan meningkatkan efisiensi dalam penanganan kargo. Unit pertama dikirimkan pada tahun 1976, dan sejak itu telah banyak pengiriman dilakukan, umumnya untuk pusat pembangkit listrik dan pabrik baja di dalam dan luar Jepang.
Klik di sini untuk mendapatkan info detail tentang Material Handling Systems
Empat poin berikut ini merupakan fitur utama dari pemuat kapal kontinu milik Grup SHI
1

Sangat responsif terhadap kondisi lingkungan (pengurangan getaran, tingkat kebisingan dan debu, juga pencegahan terhadap kontaminasi air dan konservasi energi)

Struktur jalur material yang tertutup
Dapat dilengkapi alat water sprinkler

(di bagian penggalian dan di shoot section)

Sistem penggerak menggunakan motor

(tidak termasuk sistem silinder)

2

Efisiensi tinggi dalam mengelola kargo (waktu lebih pendek untuk membongkar kargo)

Tiga jenis fungsi penggalian (fungsi Horizontal L, fungsi Swing-out digging, dan fungsi Catenary bottom clean-up)

Horizontal L-mode

Swing-out digging mode

Catenary bottom clean-up mode

Sistem Traverses interlocked (untuk operasional)
Kontrol Unloading peak rate (mengurangi skala fasilitas transpor di bagian belakang)

3

Memiliki tingkat keandalan dan keamanan yang tinggi (operasi yang stabil)

Sistem proteksi kelebihan muat (pencegahan kelelahan struktur)
Sistem fatigue and life management (monitor stress dan perkiraan hidup) (opsional)
Sertifikasi fatigue and life design dari JIS.

Pencegahan kelebihan muat dan sistem fatigue and life management

4

Sistem Perawatan yang mutakhir (Pengurangan pemeliharaan)

Motorisasi sistem penggerak
Tidak menggunakan bucket chains
Sistem Monitoring Kondisi
Untuk informasi lebih lanjut mengenai produk di atas silakan hubungi kami
Telepon
Sumitomo Heavy Industries Material Handling Systems Co., Ltd.
Material Handling Systems
Web
Sumitomo Heavy Industries Material Handling Systems Co., Ltd.