Dust Collectors
New Pulse-type Bag Filter Eco PulserTM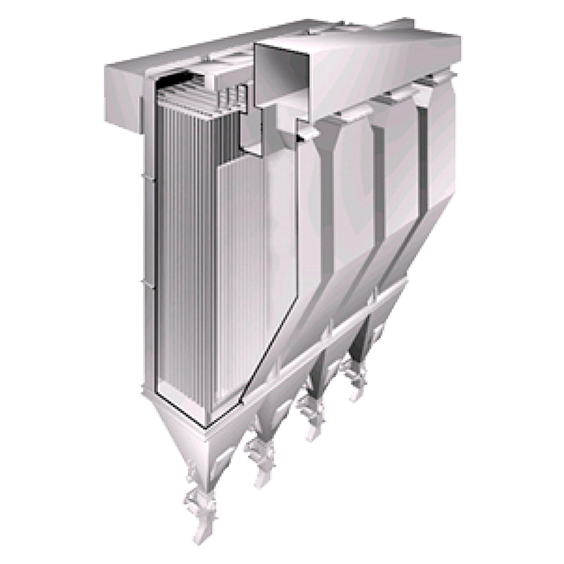 Meraih Penghargaan Industrial Sciende and Technology Policy and Environment Bureau Director-General's Award dari Ministry of Economy, Trade and Industry (METI)
Teknologi pengumpulan debu yang optimal dengan mekanisme sikat berkinerja tinggi untuk mewujudkan bag filter yang space-saving!
Dengan semakin disorotnya permasalahan lingkungan dewasa ini, regulasi terhadap lingkungan yang dibuat oleh perusahaan semakin dianggap penting. Bag filters, yang merupakan salah satu langkah yang diambil, namum mempunyai problema karena membutuhkan tempat yang besar untuk pemasangan, dan disisi lain penghematan tempat merupakan salah satu agenda yang dihadapi. Tipe baru pulse dust collector grup SHI, yaitu Eco Pulser ® dapat mengatasi semua kebutuhan tersebut.
Klik di sini untuk informasi lebih lanjut tentang Dust Collectors
1

Space Saving

Dibandingkan model yang konvensional mampu menghemat tempat lebih dari 20% berkat penggunaan bahan penyaring yang panjang dan sistem penyaringan kecepatan tinggi.

2

Pengurangan biaya peralatan

Dengan terciptanya fasilitas yang menghemat tempat, berat fasilitas dan biaya instalasi mesin akan berkurang. Oleh karena itu, pengurangan berat keseluruhan akan membuat biaya konstruksi secara keseluruhan berkurang.

3

Pengurangan biaya operasional

Dibandingkan dengan model sebelumnya, memungkinkan untuk beroperasi dengan pengurangan pembuangan tekanan, yang menyebabkan penghematan energi dan pengurangan emisi Karbon dioksida (perbandingan dengan produk kami). Selain itu, jumlah komponen dan bagian menjadi lebih sedikit, seperti kain penyaring, yang menyebabkan pengurangan jumlah pergantian suku cadang dan biaya proses pergantiannya.

4

Desain yang optimal

Desain yang optimal ditawarkan sesuai dengan berbagai kondisi dan persyaratan, berdasarkan teknologi yang mutakhir didukung oleh pengalaman yang banyak, dan data yang terkoleksi dari mesin penguji terbaik di Jepang, dan juga teknologi analisa fluida (fluid analysis technologies).

5

Tentang konsep Dust Collector

Dust Collector adalah peralatan untuk memisahkan partikel berbahaya, seperti jelaga dan debu, dari asap yang dikeluarkan dari limbah insinerator dan pabrik pembuatan baja, menjadikan peralatan ini berperan penting untuk kelangsungan aktivitas industri. Sejarah dust collector telah berkembang pesat sejak Revolusi Industri di abad ke-18 dan berevolusi sejalan dengan berkembangnya industri. Menghasilkan penemuan berbagai macam metode, termasuk Gravitational Dust Collection, Diaphragmatic Dust Collection, Electrostatic Precipitator, Filter Dust Collection, dsb.

Filter dust collection mempunyai mekanisme dengan mengumpulkan kotoran ke dalam wadah (plastik) dan memisahkannya dari udara. Keunggulannya memisahkan dan membuang dioksin secara efisien membuat filter dust collection menggantikan kedudukan electrostatic precipitator yang telah menjadi alat utama yang digunakan dari pengolahan limbah insinerator sejak sekitar tahun 1986.

Salah satu keistimewaan filter dust collector adalah fungsinya dalam pemisahan dan pembuangan substansi partikel dapat diaplikasikan dalam skala yang luas dan alat ini juga memiliki tingkat pengumpulan debu yang tinggi. Semakin banyak kasus dimana filter dust collector menggantikan electrostatic precipitator yang memasuki masa ganti, dimana pemakaiannya tidak hanya terbatas pada limbah insinerator, tapi juga pada fasilitas di pabrik baja dan besi, boiler dan pembangkit tenaga listrik. Nihon Spindle Manufacturing Co., Ltd memegang pasar terbesar untuk produk dust collector di Jepang.

Tipe baru pulse dust collector (Eco Pulser ® ) dikembangkan melalui tes empiris yang berulang-ulang dengan menggunakan fasilitas tes berskala besar, dalam rangka merespon berbagai kebutuhan akan filter dust collectors di bermacam-macam perindustrian, dan pada akhirnya berhasil mendapat nilai tinggi dari konsumen. Usaha peningkatan kemampuan teknikal, dan juga penelitian dan pengembangan yang kontinu akan berkontribusi terhadap pelestarian lingkungan global."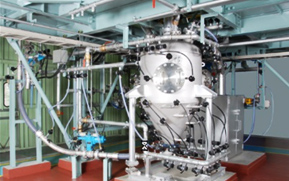 Gas transport system
Berbagai macam partikel diangkut melalui udara dengan konsentrasi tinggi pada kecepatan yang rendah. Sebuah booster dipasang di pipa aliran, untuk menjaga kestabilan perpindahan dalam jarak jauh.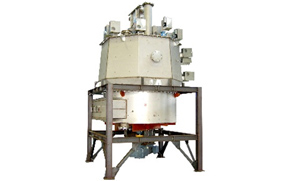 Microwave dioxin detoxification equipment
Peralatan dengan tipe menghemat energi ini adalah pemisah dioksin pertama di dunia yang menggunakan iradiasi gelombang pendek (microwave irradiation) dan dengan tingkat penguraian yang tinggi.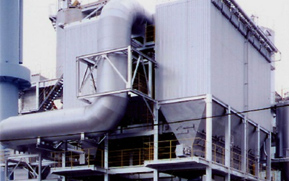 High performance bag filter
Sistem ini berpusat dengan menggunakan bag filter untuk membuang debu, dan berbagai macam partikel yang membahayakan seperti dioksin.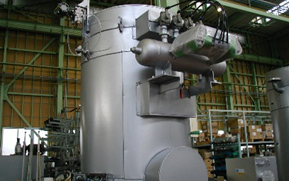 High temperature bag filter
Bag filter ini mampu mengatasi pengolahan berbagai tipe debu, komponen gas, penggunaan yang selama ini tidak dapat diitangani dengan bag filter konvensional, dan mampu mengumpulkan debu dibawah suhu yang diatur sesuai dengan kebutuhan.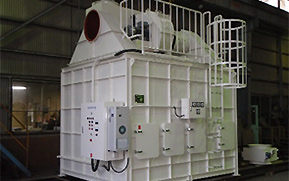 Various dust collectors
Dapat menangani berbagai kebutuhan seperti upgrade, perbaikan, modifikasi, dan tujuan lainnya yang disajikan dengan desain optimal, untuk berbagai macam dust collector dari ukuran kecil ke ukuran medium.
Untuk informasi lebih lanjut mengenai produk di atas silakan hubungi kami
Web
Nihon Spindle Manufacturing Co., Ltd.